Case Study - Gary and Patience Hafferden's Luxury Bespoke Knightsbridge Kitchen
The Hafferdens Believe in Broadway
Recommendations are an important part of spreading the word of the good work done by Broadway Kitchens. They certainly help in cementing our reputation as a reliable, attentive and highly skilled bespoke kitchen manufacturer around the Essex, Kent and South East areas.
More often than not, these recommendations not only lead to another opportunity for Broadway to design and install another beautiful, bespoke kitchen, but to also welcome new friends along the way. This case study focuses on Gary and Patience Hafferden, who quickly became firm friends of Broadway Kitchens, who themselves have enjoyed 40 years and three generations as a flourishing family business. That the Hafferden's youngest son, Gary, had ideas that he wanted to see implemented in the kitchen was music to our ears and exactly in line with our own family values.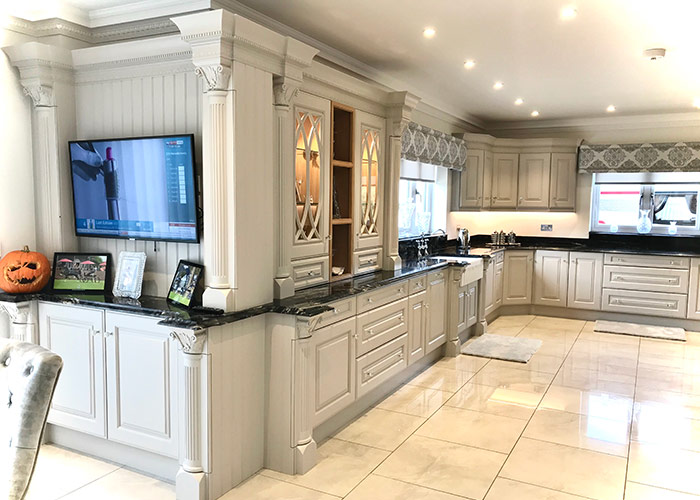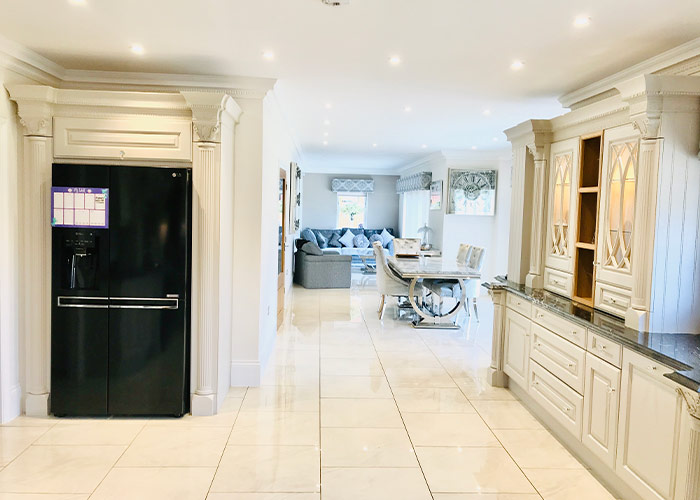 Recommended by our existing and close friends, Morris and Linda Black, Mr and Mrs Hafferden were specifically looking for a kitchen design that was a little bit more unusual than the rest. They had already seen and been quoted on a whole host of run of the mill kitchens and were left uninspired and yearning for something more individual. The couple craved a kitchen that was exclusive, markedly different and completely bespoke.
When the Hafferdens came to visit us at Broadway, they knew they had certainly come to the right place. Whether it's Shaker, Traditional or Modern kitchens, you can believe in Broadway. If there's something more specific that you have in mind, we can also offer the Victorian, Edwardian and designer kitchen ranges, including our popular and pragmatic German-style designs. As a designer, we can design anything.
Now that the job has been completed, I can whole-heartedly recommend Broadway Kitchens. The whole process from start to finish was done in exactly the manner in which they described to us.
Mr Hafferden, himself a successful property developer, was so overjoyed with the entirety of his Broadway Kitchens experience, that he has since decided to return to Broadway to receive quotes for further work that he wishes us to undertake on his behalf and we, of course, are honoured to oblige.
When it came to their own unique abode, Mr and Mrs Hafferden had a deep desire to etch their own individuality into the details of their luxury bespoke kitchen. One of the most unique and eye-catching ways in which this was achieved, was via the customisation of their mantle, which also doubled-up as the housing for the hob's extraction unit and cooker hood.
This was a welcoming and attractive flourish for the Hafferdens' home, especially as, up until now, other manufactures had only offered simple square boxes and rectangular housing units which did not reflect their personality. Whereas other kitchen companies kept it simple, Broadway Kitchens went above and beyond and delved deep into the desires of the Hafferdens, who now as a result, proudly display the moniker of their home for all their visitors to see.
As you would expect from a luxury designer kitchen, The Hafferdens wanted durable dovetail drawers around their kitchen, which were hard-wearing and felt homely, rather than cold and unwelcoming like metal drawers. Once you've decided on wood, it's all the more satisfying knowing that each drawer has been hand painted and that you can pick out each and every brush stroke as if it were a work of art.
During the entire designing process, the Hafferdens were happy to travel from Kent to our Essex showroom so, alongside Satt Sembhy, they could go into the most minute detail to ensure that the kitchen of their dreams was being crafted for them. In total, there were 3 separate meetings to finalise the layout of the kitchen and decide on the details in the granite work tops, the colours of the flooring and the particular appliances that they had in mind.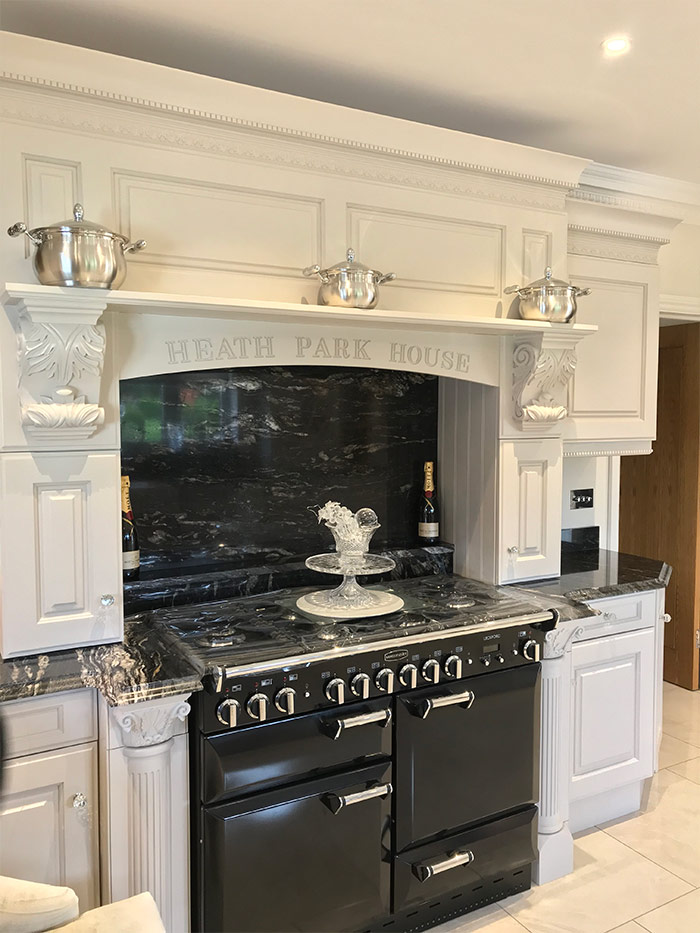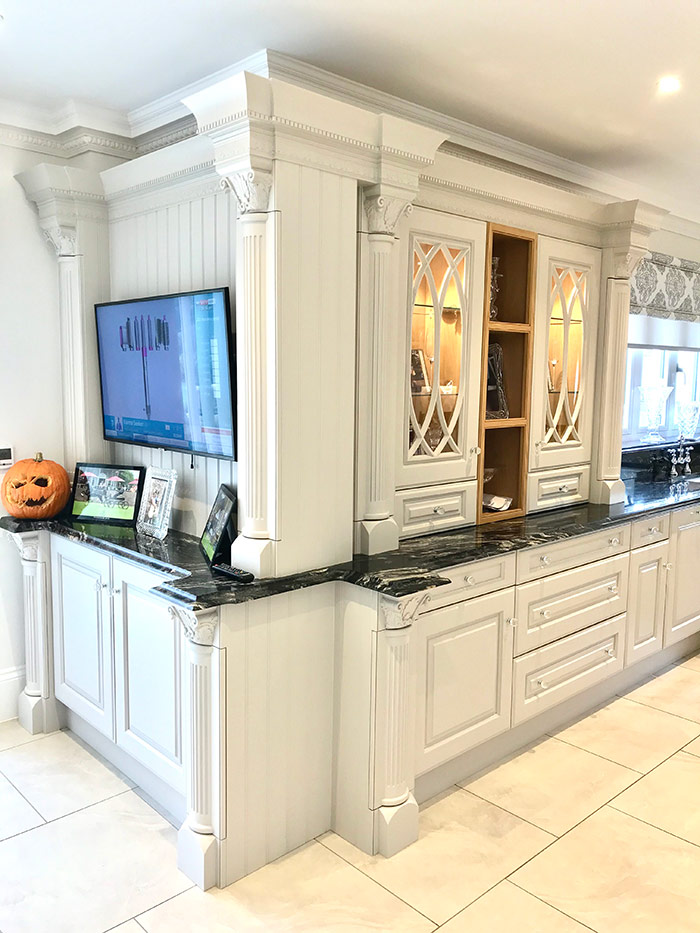 We had seen so many kitchen companies before Broadway. However, when Sunny and his dad came, we were impressed with their knowledge and that they were able to manufacture the type of kitchen we were looking for.
One such detail desired by the Hafferderns was the housing of the American style fridge freezer. As with many families, Gary and Patience needed a large family fridge and freezer but were concerned that a giant American-style fridge freezer would be ugly, cumbersome and therefore dominate the entire room. Having encountered this issue before, Broadway's father and son designer team of Satt and Sunny Sembhy skilfully crafted a frame for the fridge, so that the body was encased and the sides were no longer visible. The ornate housing unit of columns and corbels meant that the fridge was in keeping with the rest of the kitchen and added to the décor rather than detracted from it.
Similarly, the adjacent television suite shares the same style of furniture detailing, so it feels as if the room leads into the open plan kitchen and that family members all feel connected, whether they are cooking or catching up on their favourite show. So proud were the Hafferdens of their bespoke kitchen design, that they decided against an island, instead opting not to obstruct the view of their eye-catching new kitchen. Please do peruse the photographs and see for yourself.
From Billericay to Ongar, Chelmsford to Chigwell, whether it's Louton or Hutton, or Tonbridge or Royal Tunbridge Wells, call our Essex showroom on 01277 212221, or drop in to 98 High Street, Brentwood, Essex CM14 4AP and you'll see why so many believe in Broadway.