Broadway's Beautiful Bespoke Kitchens: Accessibility and Aesthetics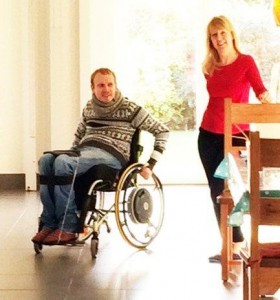 2006 saw a car crash drastically affect the life of Ben Joyce and his wife Sonia. Becoming severely paralysed had an unimaginable impact on both Ben and Sonia's lives and greatly influenced the interior design and accessibility of their Staffordshire home. This was particularly prevalent in the kitchen/living space which became Ben and Sonia's most lived-in area.
Whereas the 5-bedroom home itself was re-designed alongside a local architect to be more accessible, Ben and Sonia approached Broadway for the kitchen's bespoke design after converting four rooms into one for a spacious kitchen and living area.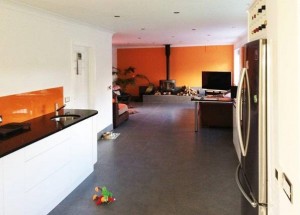 Ben commented; "Whilst I now have partial, limited movement in my hands and arms, it's fair to say that I wouldn't be able to cook. However, I can certainly assist Sonia by getting items out of cupboards. This really was the starting approach to our design brief: I wanted cupboards that I could reach and open with a push and a wide-open space with no sharp edges for unimpeded access. This is why our design has rounded edges and no wall cupboards."
Understandably, both Ben & Sonia wanted an exciting, contemporary space that would please everybody, including potential future owners of the property, rather than an area that automatically suggested 'accessibility'. This fusion has been so successful due to the expertise of their architect Ben Parsons Designs and Satt Sembhy, Broadway Kitchens' Managing Director and Designer, who also has a kitchen showroom in Brentwood, Essex.

Sonia reflects; "You wouldn't immediately recognise the little, subtle touches that have made this space not only successful as a vibrant exciting kitchen, but also, an enjoyable space for Ben. For example, the windows in the living room area have been lowered, just as with the light switches, so that Ben can easily see to outside and operate the light switches".
"There is a little breakfast bar that Ben can wheel himself up to, with access for his chair and legs; just the thing for a daytime snack or to work at his laptop. Even the American Fridge Freezer has been carefully selected so that the drawer and door handles are of a height that Ben can manage. The tailor-made Broadway kitchen… provides a solid base canvas upon which to build the contrasting black quartz worktops"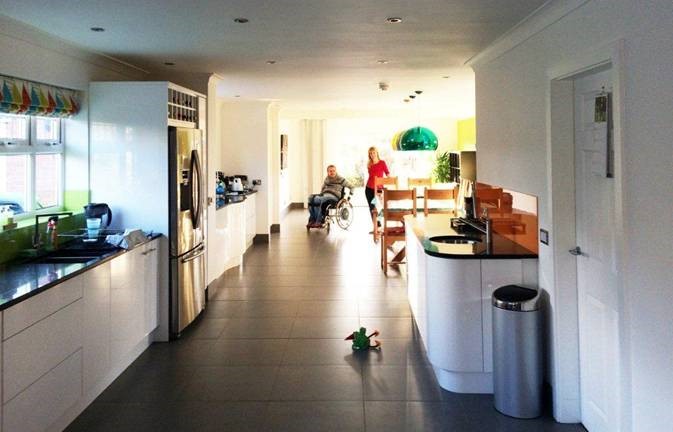 The tailor-made Broadway kitchen, which is clothed with white high gloss and handless doors and drawers, provides a solid base canvas upon which to build the contrasting black quartz worktops. Add to that the underfloor-heated Mandarin porcelain tiled floor and the wonderfully vibrant orange and green glass splash backs with their matching painted walls and you start to see a vibrant picture of what your kitchen could look like. Here, the refreshing citrus colours are accentuated by the abundance of light that floods into the ground floor area.

Ben continues, "We both wanted lots of light given the amount of time that we spend in the room together and with friends and family. So, we created some full wall height windows as well as designing into the scheme (some) bi-fold doors which open out onto our sun terrace and garden: ideal for the late spring and summer months. Adjacent to the bi-fold doors is what one might think is a contemporary radiator. However, Ben is quick to point out; "Ha Ha! That has everyone fooled at first glance; it's actually the hydraulic lift to take me to the upstairs. When our young nieces and nephews come to visit, I have to hide the key to the control panel since they love to go up and down!"
Bi-folding doors, extra-high windows and the furniture's reflective white high gloss finish make this gorgeous kitchen a wonderfully light and accessible space for cooking, eating and living with all members of the family.