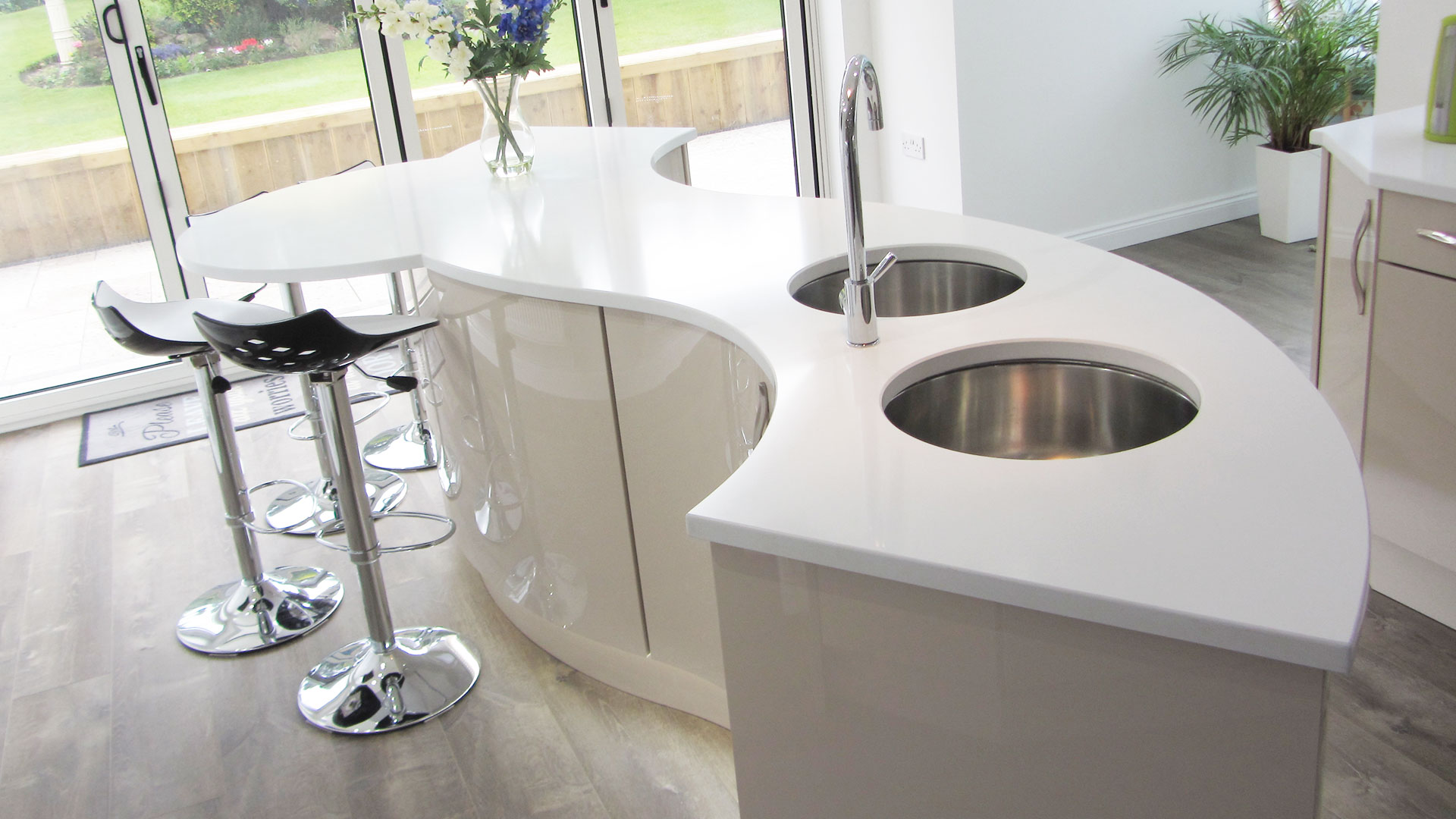 Kitchen Islands
18th June 2019
Home Bars "Staying In is the new going Out".
Staying at home to enjoy our favourite tipple has never been more popular than it is now, with the cost of living rising eating and drinking out could be seen as a luxury – but this doesn't mean we shouldn't be able to unwind and socialize with friends and family. On the contrary our unique bespoke home bars are perfect for entertaining and impressing guests.
As a manufacturing company Broadway has seen a huge increase in demand for personal home bars, they are fast becoming the epitome in aspirational home improvements.
Think about the times you may have stood in the cold queuing to get into a bar or waiting for a taxi – those days can be a thing of the past, whether you are looking to install the ultimate sanctuary or an epicentre of house parties and gatherings a beautifully crafted bar can be designed to your personal specification.
All of our bars are manufactured using the highest quality sustainable materials, the sturdiness, durability and craftsmanship of all our furniture is why customers have entrusted us to remodel numerous rooms in their homes.
The bars we design are made to fit perfectly within any environment whether it be simple and classy in the lounge, somewhere to serve after diner drinks in the dining room, a cool retro feel in the games room, charming and chic in a conservatory, a cork popping glamourous kitchen bar, an urban man cave or chilled out summer house – we aim to tick all the boxes.
Our bars are carefully sized to compliment any room and our clever design features allow for maximum drinks, bottle and glass storage. A stylish home bar has become top of our domestic wish list and thanks to the use of luxe materials and atmospheric palette we incorporate there has never been a better time to start planning your next party!
Customers often come to us with a distinct vision of their home bar requirements whether it be something they've seen online, in a magazine or on TV, our in-house design and manufacturing team are on hand to help realise those dreams – maybe you're an inspiring mixologist or want to master the art of pouring the perfect pint from behind your own bar we're here to help bring your vision to fruition.
The various styles and colours available are limitless, no matter how big or small the project we apply the same core principle – How do you want the space to work for you?
Traditional Bars, pay homage to the traditional English pub. With wood panelling hand or spray painted in muted tones or the earthy simplicity of a natural wood finish highlighting the grain and texture of the timber. This style really is a 'home pub' with open glass display shelving for optics, low lit lighting this timeless classic can be dressed up or down with vintage pieces.
Modern Bars are unique, functional sleek designs that are not based on conformity. The shape and size of your bar should not limit its wow factor, wave goodbye to the drinks trolley and unveil a contemporary home wine bar. Modern bars work extremely well when manufactured in gloss or matt finishes, spotlights brighten and energize the space whilst metallic or mirrored splashbacks reflect light beautifully off the handle less undercounter storage, alternatively concertina style doors can be closed off when not in use or opened up to create a drinks prep area.
Designer Bars, are exactly that we try to offer something unique that will blow your guests away but at the same time look intimate and inviting. The aim is to beautify the bar in a way that is relevant to your lifestyle and usage. We aim to design, manufacture and install a dynamic showstopper of a home bar.
Our professional planning process and computer aided visual design presentations allow or clients the luxury of seeing their bespoke home bar in all its glory prior to going to manufacture. This means if something doesn't look right, or a client wants to make additions we can fully accommodate their requirements.
Our custom-made bars and seating areas combine traditional methods of craftsmanship, construction and installation with modern manufacturing and design technology to bring the wow factor into any home.
We have been fortunate enough to have been commissioned to design home bars of all shapes and sizes and this gives us a wealth of knowledge and experience to pass onto prospective clients:0
A sweeping horseshoe bar can look magnificent as a centre piece in a large room, with led lighting, footrails and plush bench & stool seating for guests – you really can be the landlord/lady in your own home pub.
Timber fronted bars with atmospheric lighting can give a feeling of charm and grandeur, our wide range of bar top surfaces can be cut to sizes to suit any area.
A sleek modern look island is ideal for undercounter appliances, for guests to gather socialise and witness your best cocktail making skills.
Don't be disheartened if you think you haven't got the space, a dedicated home bar can be stylish even with limited space – lots of people are transforming the (messy) understairs cupboard into a vaulted quirky bar area, nothing is impossible.
Whatever the occasion your home bar can be the stylish venue to celebrate, socialize, make wonderful memories, and simply relax after a hard day.
Designed with a passion for creativity and innovation your uniquely crafted home bar will be the talking point for years to come, our in-house designers work alongside electrical experts to install audio sensitive lighting, speaker and surround sound systems all the latest gadgets and gizmos any host could wish for.
Bring the lively atmosphere of going out into your own home, watch sports with friends on a big screen or have a girlie night – whatever the occasion it's a perfect entertaining space where the drinks flow steadily, and the company is always good.
Our dedicated team are on hand to offer suggestions when it comes to appliances, accessories and furnishings – sometimes it the finishing touches that can make a good bar a great bar. Integrated ice/champagne troughs are luxurious and classy, metallic or mirrored back panel walls exude glamour, strategically placed LED lighting can change the whole feel of a room, and appliances should complement the space not, overpower it.
Selecting the right home bar style is pivotal to creating a space that will excite and entertain you, your family and friends for years to come, think about how it will fit into your overall living space and become a well-used area not just somewhere that used on special occasions.