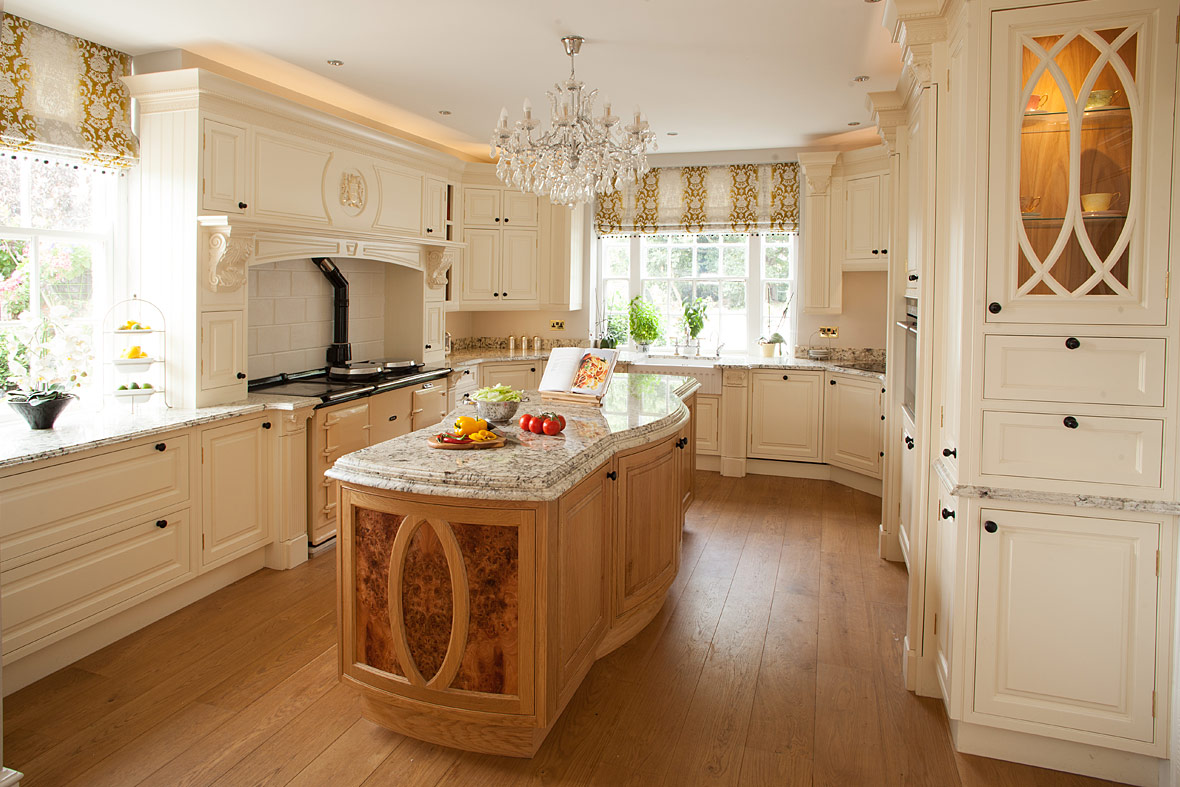 Broadway Bespoke Kitchen Showroom in Essex
29th March 2019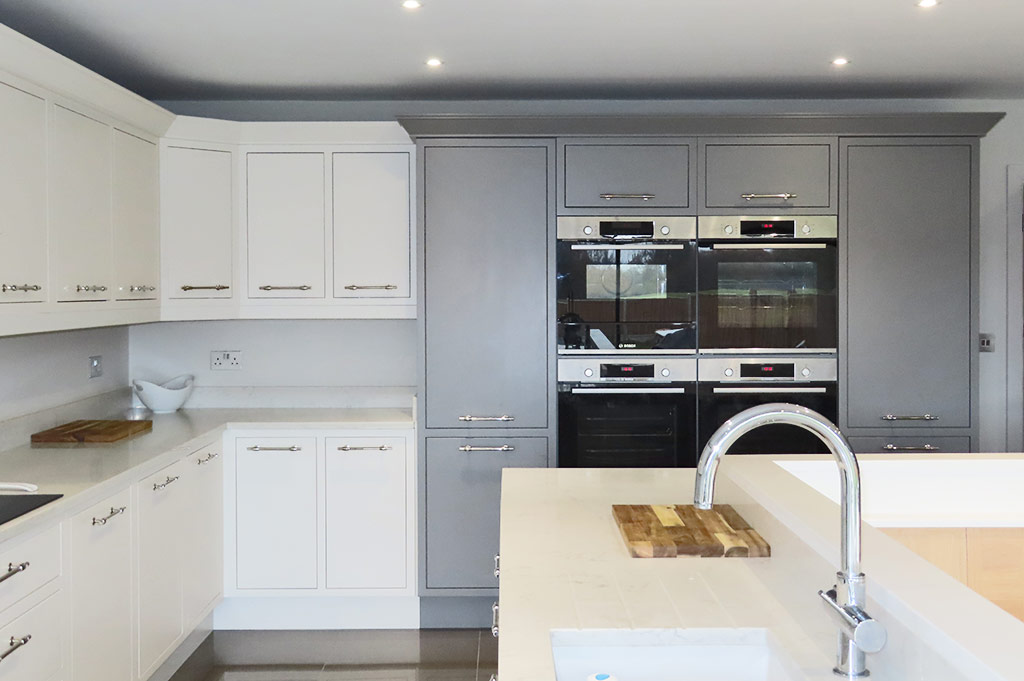 What is a Designer Kitchen?
4th June 2019
The Shaker Kitchen: A Brief History
A kitchen is just a kitchen. A functional, practical space for cooking. Nothing more than the sum of its parts. Or so I thought. Once I began work with Broadway Kitchens - who are based in Brentwood in Essex - the research into the evolving styles of kitchens lead down some interesting and unexpected avenues, particularly when it comes to the Shaker kitchen.
More than just a moniker with upbeat connotations of movin' and shakin', the Shaker kitchen represents the ideology, style and skill set of the 17th Century religious sect known as the United Society of Believers in Christ's Second Appearing, who were more often referred to as the Quakers.
Although nicknamed 'Shakers' due to their enthusiastic, vibrant physical God-fearing prayer, that very same term is now synonymous with a style of kitchen that is simple, practical, functional and luxury without unnecessary decoration or pointless ornamentation.
With simplicity in mind, Shakers saw no need for a separate cupboard or drawer when a utensil peg rail could be fitted to run the entire length of the kitchen. Set at eye level, this would allow ease of access and economic use of space but now can be considered a focal point of a stylish shaker kitchen.
Inspired by the Quaker's quest for cleanliness in their spirituality, physicality and productivity, Shaker kitchen cupboard crevices and corners were kept to a minimum so to avoid the collection of dirt. The Shaker kitchen's minimalist design also reduced the shadows which would be cast across the surfaces to enable a well-lit working area and was in keeping with their 'friends of the light' ethos.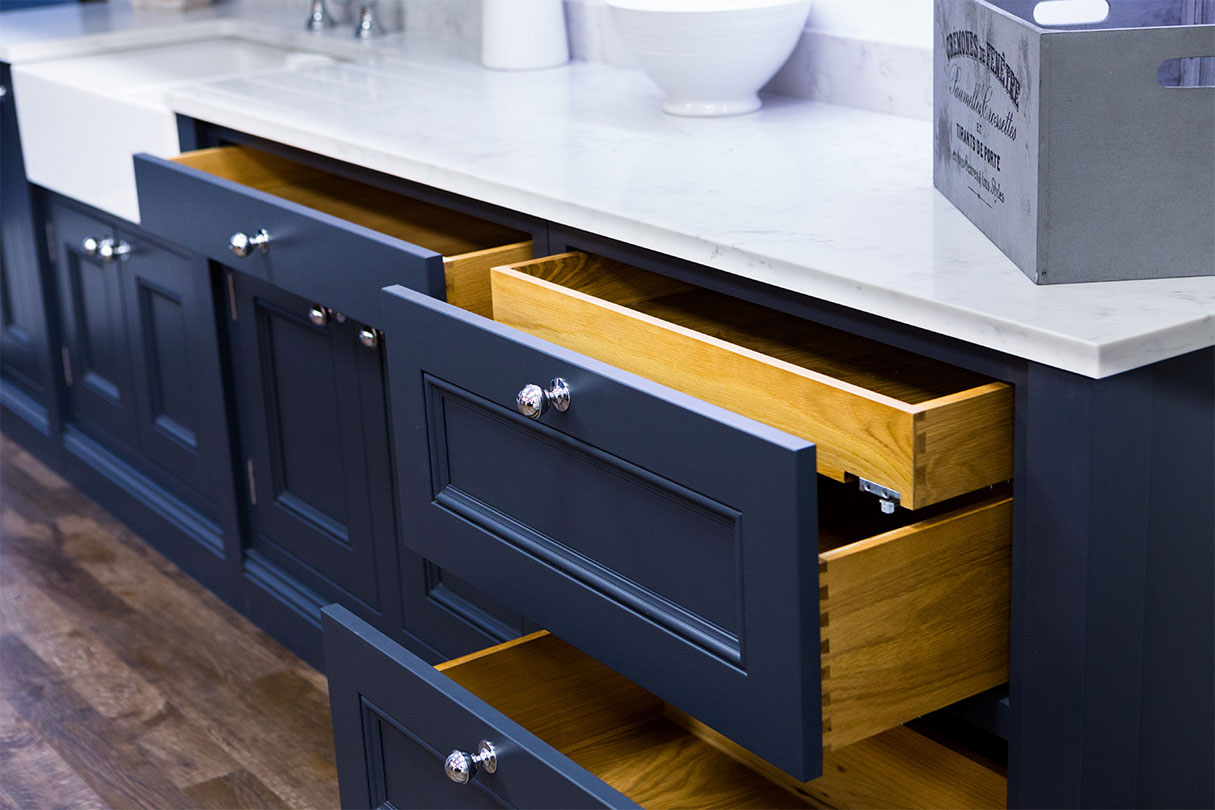 Bespoke Shaker Kitchens
With this in mind, each Shaker kitchen was truly bespoke as it was created primarily with the individual or family's needs in mind, rather than from a standard 'one size fits all' generic design. Their ideal was that to create something was in itself "an act of prayer and devotion" or a testament to God and therefore demanded that great care was devoted to every Shaker kitchen created.
This resulted in durability, strength and skilful crafting which, particularly at Broadway Kitchens, continues to this day. These sensibilities have stayed with the Shaker kitchen style throughout the years via its crisp aesthetic and application of practical austerity. This sturdiness came from their traditional construction from Oak, Sapele, Cherry Wood and Maple due to their abundance in the Shakers' surrounding natural environment.
This is a tradition which is honoured here in Essex by Broadway kitchens, as you can see by the image below which depicts a Cherry Wood Shaker Kitchen, which boasts simplicity, space and stacks of storage.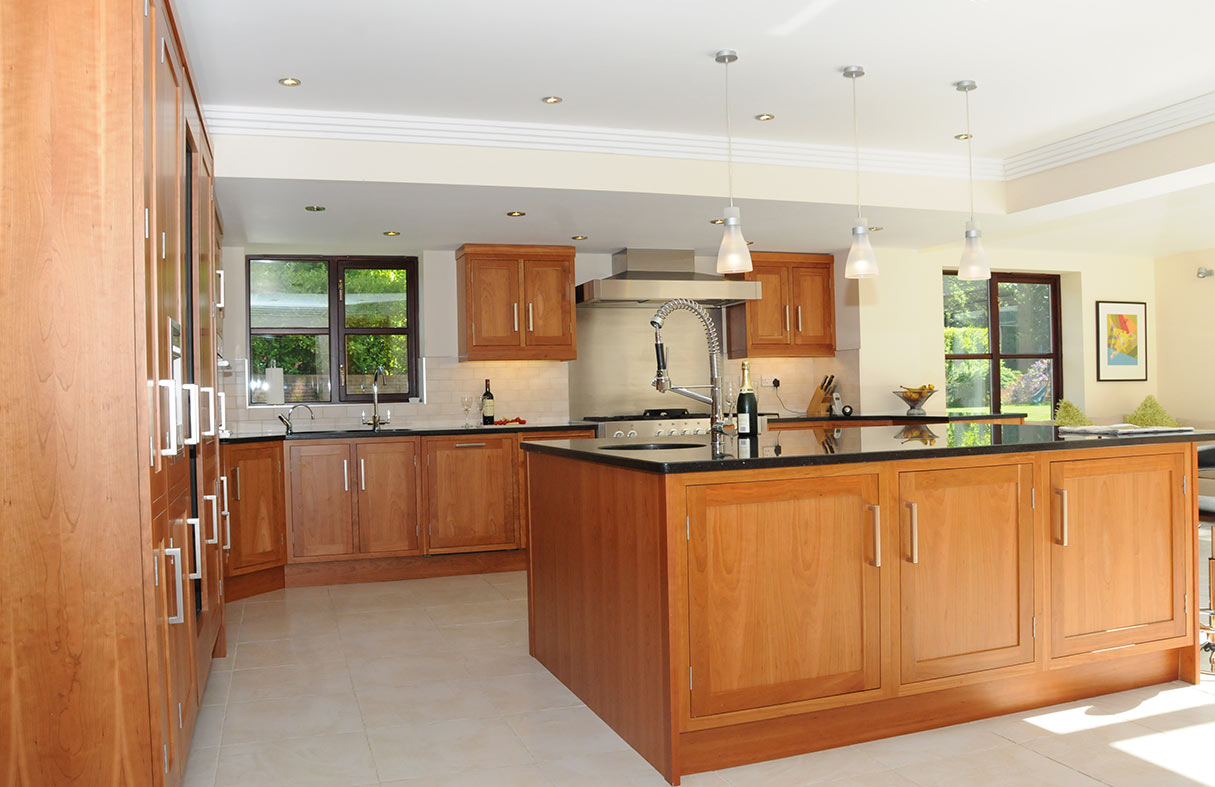 Modern Luxury Shaker kitchens
In modern terms, Shaker kitchens became particularly prevalent during the turn of the twentieth century and were hand-painted in colours such as blues, creams, greys and greens which were used to brighten up otherwise dull, dark and drab living areas and the result of oiling the natural wood. This mirrored the care and devotion which the Shaker community poured into the production of their kitchens through the representation of nature and its tones and timbres.
Where colours were once indicative of the associated sect or a representation of the natural materials available, modernity has been more lenient to the addition of colour. In part to make up for the unavailability of electricity and partially to combat post-war depression, the Shaker kitchen's style was easily achievable and a cheery alternative to the norm. The addition of colour to the kitchen saw ideas of individuality begin to creep into shaker designs.
Modern Luxury Shaker kitchens are more freely adaptable than its originators would have permitted, and the bespoke nature of each kitchen can be capitalised upon by our customers here at Broadway. See below for an example of an Edwardian-esque Shaker kitchen with additional chrome-plated handles, fine detailing and a curvature in the cornice.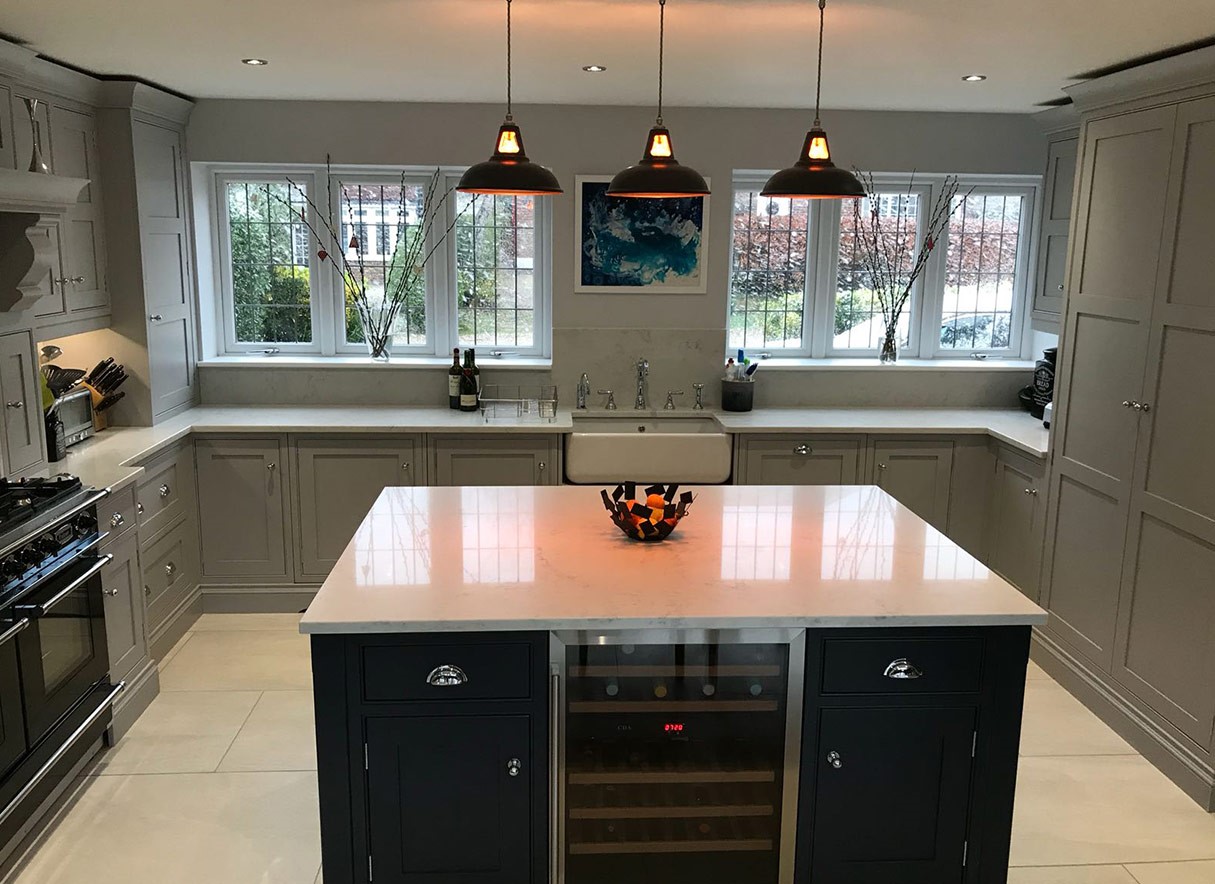 Shaker kitchens continue to evolve and present the opportunity to stamp your own individuality and exclusivity on a practical, economic and simple cooking space. If you've got any questions regarding Shaker kitchens, feel free to contact us at Broadway Kitchens or visit our Kitchen showroom in Brentwood, Essex. Tel: 01277 212221. Request a brochure.